$16.99
All with: high-quality pencils for drawing, sketching and writing, a perfect choice for adults, children, students, artists, student, very suitable for Figur as well Holzkohlezeichnung.
Professional Carbon pins: Soft, Agent to very hard to get creative sketches.
All Safe and harmless: The pencils and tools are of TUV tested, an excellent gift for the family, friends or someone you know.
High-quality pencils for artists of all levels: with 3 charcoal pencils and 3 Graphite Pencils for the next generation of manual sketching techniques.
Zip Pouch: Portable Pocket can be well organised all piece store and over.
Description
GHB Set of 36 Pencils Sketching and Drawing Professional Art Set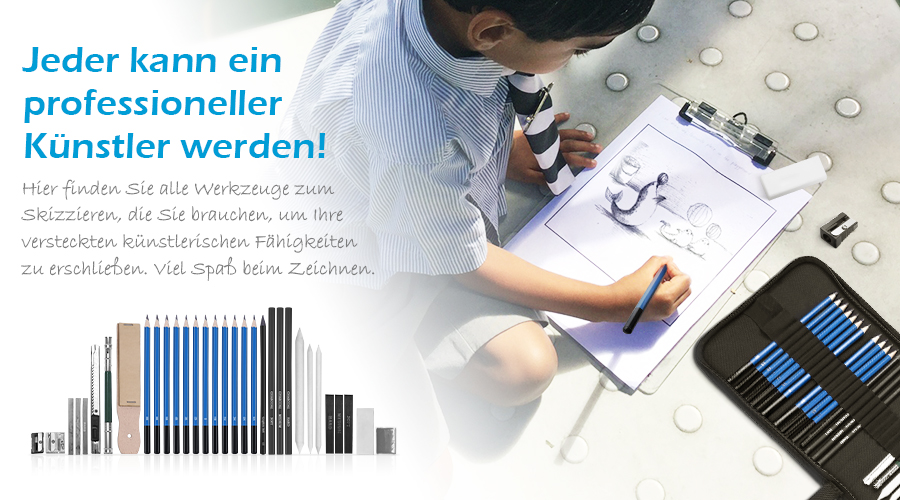 GHB Sketching Pencils Set – The best choice for all artists, whether you are a beginner or an experienced artist, if you want to have the best graphite drawing pencils, this is the best choice. Everything you need for sketching in a compact handy closed case – draw easily wherever you are and whenever you want. Besides, it is a good gift for Christmas, Birthday, New Year, Valentine's Day etc and an excellent set for adults, kids, school and art class.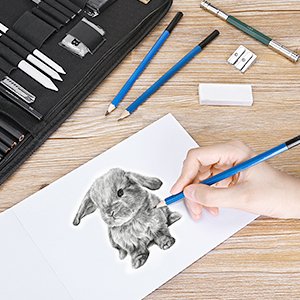 An improved 36pcs art set includes more useful art tools you need from soft to medium hard to achieve high quality and creative sketching artwork. Comes with 3 charcoal sticks and 3 graphite sticks to achieve unlimited sketching techniques. The rich graphite, resistant to light and weather, clean erase and high quality. In addition, the zip case is included in the package: The portable bag can store and store all pieces well organized. With this professional sketching set you now have a way to express yourself and implement your ideas and ideas into reality.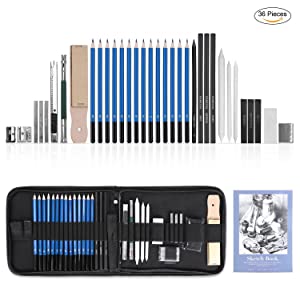 14 x High Quality Drawing Pencils: 5H, 4H, 3H, 2H, HB, B, 2B, 3B, 4B, 4B, 5B, 6B, 8B 3 x Charcoal Pencils: Soft, Medium, Hard 3 x Graphite Pencils: Soft, Medium, Hard 3 x Carbon Stick: Soft, Medium, Hard 3 x Blending Paper Stumps: 1 x Graphite Pencil 6B 1 x Metal Double Sharpener: For Graphite Pencils Use 1 x Black Sharpener: For Charcoal Pencils Use 1 x Getted Eraser: For Charcoal pencils 1 x dual head pencil extender 1 x sandpaper pencil pointer 1 x eraser 1 x metal knife 1 x sketch paper 1 x zip case.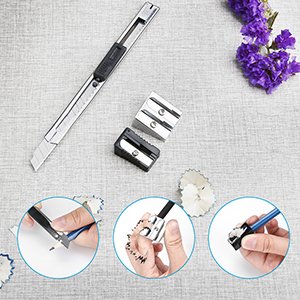 2 pencil sharpeners and a pencil knife are supplied. The double hole sharpener is for graphite pencils and the black one is for carbon pencils. If you want to have the long pencil lead you need to use the pencil knife.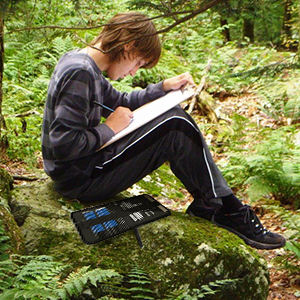 The handy, beautiful zippered case makes it portable to take with you. At school, at home, in the office or in a cafe, whether indoors or outdoors, you can draw your favourite series anytime and anywhere.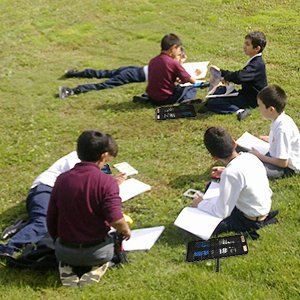 For a sketching beginner, it definitely has many useful art tools. One package contains everything you need and is ready to draw in class. In addition, the organised case prevents you from losing your pencils!