$33.99
✅ 【Portable and Cordless】 The inflatable pump is unique and sophisticated design, compact and convenient. You can easily put it in your backpack or on your bike, in the car.This inflator attached a 12V AC / DC AC adapter for car and other AC charging adapter, it can be charged in the car or at home. It is recommended to fully charge it to avoid excessive discharge and damage to the battery after long storage
✅ 【Digital LCD Display for Pressure】 The Mini Electric Pump built-in battery protection device, the pressure value of the tire inflator can be set according to your needs. Once the predetermined pressure is reached, the air pump will stop automatically to avoid over-inflation; It can also be used as a pressure gauge to test tire pressure at any time, the maximum pressure value can reach 150 PSI
✅ 【High Brightness LED Light】 Air compressor can set the air pump pressure unit through the LCD screen. With the "UNIT" button you can change the pressure measurement unit between PSI, BAR, KPA and Kg. The LED light can illuminate objects within a 30 meter radius, making it easy to inflate the tire at night. The LED light can also be used as an emergency light in nature
✅ 【Multifunction】 The Electric Inflator is easy to use, just turn it on and select the nozzle. Adjust the number of inflation PSI we want, connect the nozzle and the tire will inflate according to the given indications, It can inflate the tires of the cars / SUV / bicycles / motorcycles / wheelchairs and also the weeding machine, etc.
✅ 【Cautions】 The mini air compressor does not work in the following scenarios; Air or inflatable mattresses, truck tires (tires larger than 4×4), and large inflatable toys. Also, due to the high pressure, the compressor will heat up while it is running. Therefore, it is recommended to stop the inflator for 10 minutes after continuous operation for about 5 ~ 10 minutes
Description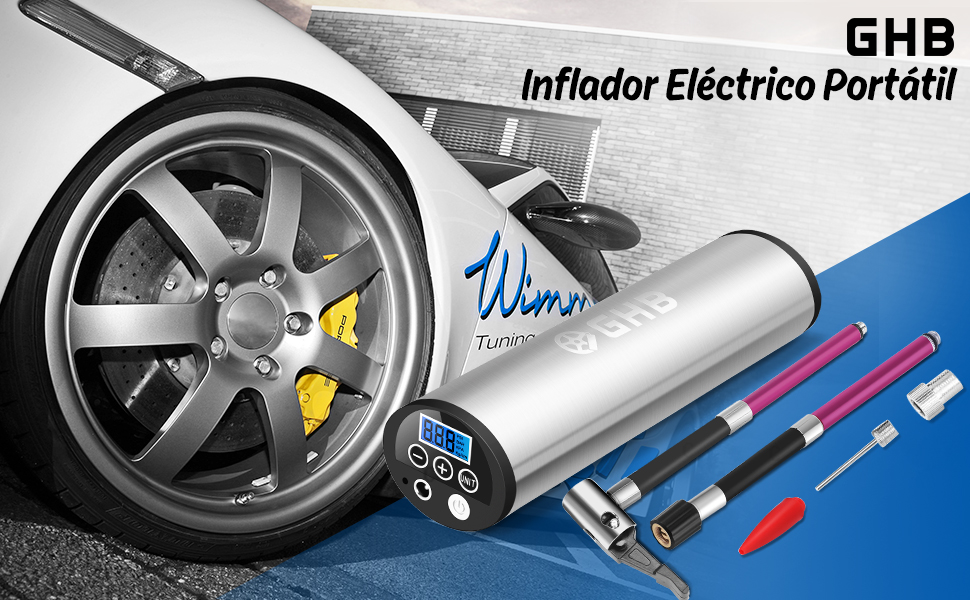 GHB Portable Electric Inflator – Designed for emergency use
Properly inflated tires can ensure your vehicle handles better by making it safer to drive and also saving your money by improving your vehicle's fuel efficiency and reducing wear and tear.
Try to think that you feel that the steering wheel gets heavy and that it is difficult to control the car while driving, and you eventually find that the tire pressure is too low. It can ruin a good day or perfect weekend if something this bad happens when you're ready to go to work or to enjoy the family trip.
Therefore, it is useful to have a tire inflator in our daily life. And this GHB portable tire inflator can help you inflate your tire back to the ideal pressure and bring you home, no need to call or wait for help.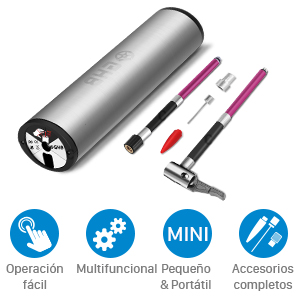 Cable and wireless:
The rechargeable design makes it can be used anywhere to inflate. Approx. 1.5 hours to fully charge with the AC / DC adapter.
LED lighting
It has two LED lights on the bottom of the inflator, controlled with the power button.
High Pressure Gas Inflator
Although the inflator has a small size, it is powerful, it can inflate pressures of up to 11 kg / cm2 or 150 PSI, satisfying high pressure needs, whether for bicycles and even cars.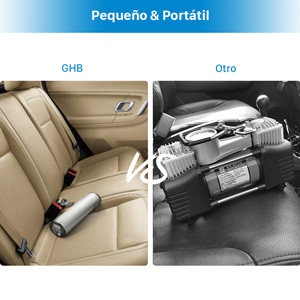 Instructions for use
Please connect one end of the tubing to the inflator and connect another end to the valve core of the lower tire.
For the French valve core, you need to add a French valve.
Press the "UNIT" button to activate the screen, Show current tire pressure.
Press the "+" or "-" button to set the required tire pressure value, the setting is completed after the value does not flash.
Press the power button to start inflating.
After reaching the set pressure, the inflation pump will automatically stop inflation.
If you do not want to continue using the inflation pump, press the power button to turn off the LED light.
The LCD screen will turn off automatically after 90 seconds.
Note: Power off after power on or Stop inflation after a few seconds of inflation.Need to charge the inflation pump.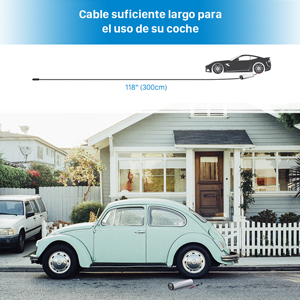 Attentions:
Not suitable for truck or van tires.
After long-time operation, both the tube and cylinder get hot and need to take a break before using it again.
When you want to inflate tires with the net, please connect the cigarette lighter instead of the wall socket.
To keep the battery in good condition and extend the life of the battery, we recommend that you charge it immediately after the battery is depleted.
If you do not use it for a long time, you should charge it in advance and not leave it idle for more than 3 months. Otherwise, it may damage the battery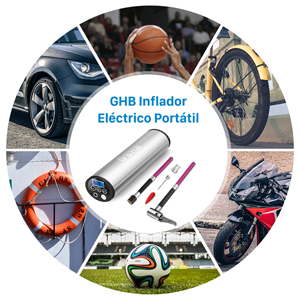 Product Details:
Voltage: 12V
Current: 5A
Flow: 12LPM
Charging time: 1.5h
Package includes:
1 x inflator
2 x air hose
1 x bag
1 x AC adapter
1 x home adapter