$13.99
Decent soldering iron that heats up fast: Soldering iron has a temperature dial that allows you to adjust the heat between 200 and 450℃
Easy to meet your different soldering demands: The kit includes 6 different sized tips for the soldering iron (6 tips, 1 in the iron, and 5 in a small bag)
Portable and convenient: Soldering iron kit comes with a case which is really handy for keeping everything together and tidy when not in use
An ideal, small soldering iron kit for electronics, auto repairs, small electrical jobs and many other uses
What it includes: soldering iron, solder wire, stand, solder sucker and 5 extra soldering iron tips. Please wet the sponge to make it fluffy before you use it. That would better help you wipe the tips clean
Description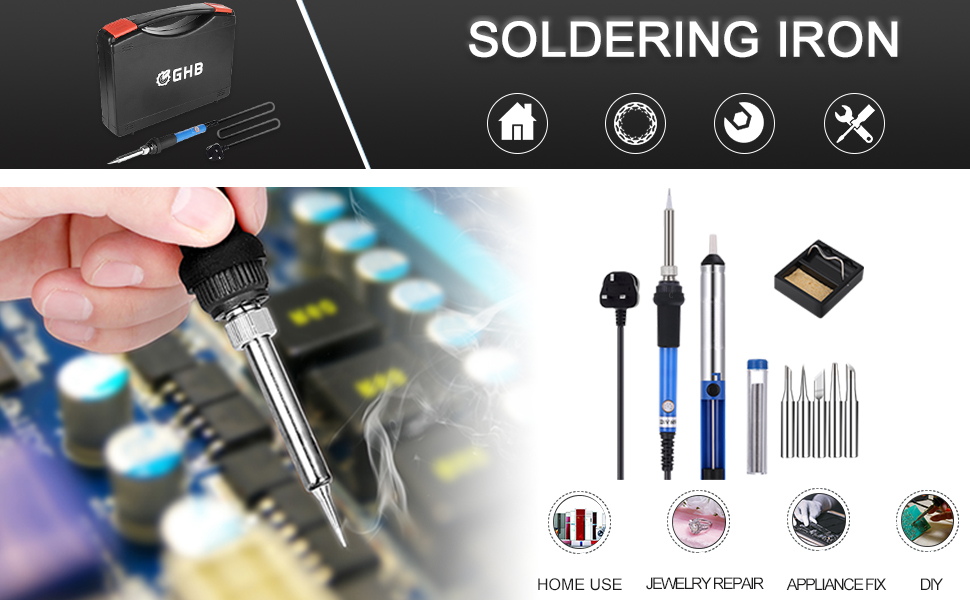 GHB 60W Soldering Iron Kit, you absolutely cannot fault it.
A quite basic soldering iron with a few added features compared with the basic models.
-It comes with a set of extra tips for different soldering situations.
-A temperature control knob – Allowing you to select you chosen temperature.
The iron is light and comfortable to hold, with a rubber grip where it sits in your fingertips comfortably.
How to solder:
Prepare solder and soldering iron; It's necessary to keep the tip clean
Please wet the sponge before using.
Use the soldering iron to heat the weldment, such as PCB leads and pads, and keep the weldment heated evenly.
When the temperature is high enough, put the solder wire close to the joint, the solder will melt and flow freely.
Please remove the solder wire when the tin is enough.
Take away the soldering iron in a direction approximately 45°and power off.
Don't pull the soldering iron tip outward and use it in that way, which will shorten the heating element life.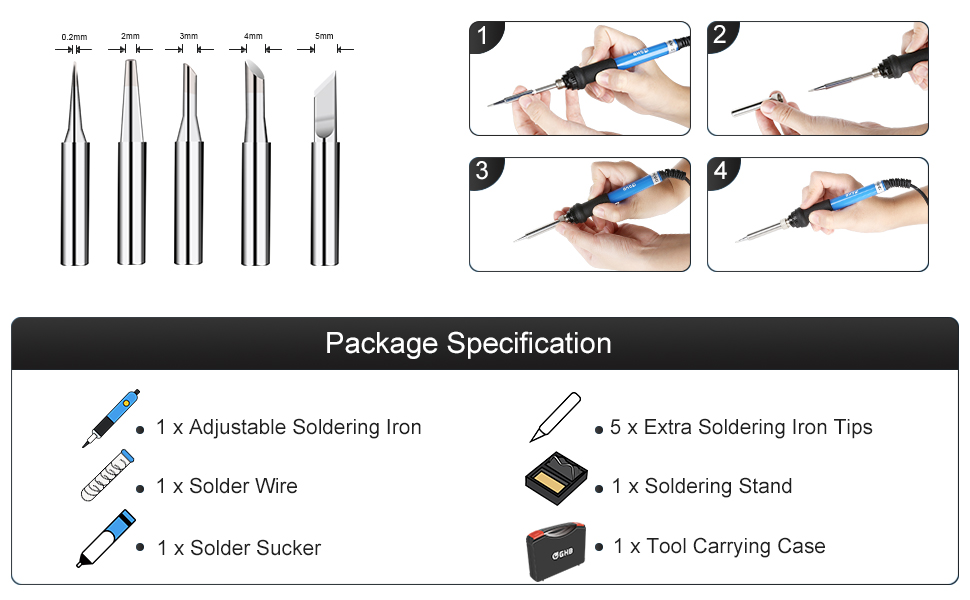 How to change tips?
First unplug the iron from the mains electrical supply and make sure the iron is cold;
Next locate a metal collar just below the handle insulation towards the tip end;
Unscrew carefully and you feel the collar and a protecting tube below coming loose;.
When the collar is free slide it and the tube downwards off the iron. The tip is now exposed and will slide of the heating element;(Do this gently because the heater has a ceramic sheath won't bend! The tip slides off easily)
Replace with an alternate tip,slide the protective tube and its collar over the tip and retighten the collar.
Please Note:
– Do not place it for long time (Especially the temperature is adjusted to the maximum), it may cause the soldering iron to overheat.
– This product is high temperature electronic product, Do not near water!
– Don't let the children get close to the item.
– Do not let soldering iron touch electronic components for long time, it will cause them burnout.
– Melt a little solder wire on the tip of soldering iron after use, It can protect the soldering iron head from being oxidized
We will get you back within 24 hours for any questions you haveO(∩_∩)O~~