$13.99
High quality aluminum material. Its aluminum structure makes it a much more robust and durable
Compatible with all GoPro 3 + 4 SJ5000 DV Camera Sony Action Cam / Canon / Nikon
The operation is very simple. We place the camera or mobile, we extend the selfie stick and we can record a video, it is more suitable for recording videos
The head allows a 360 degree rotation of the camera. The material used in the support is aluminum, it has a rubber handle to prevent slipping as well as a strap to hold it.
Portrays a 30cm, extends to 93cm .Item Weight: 130g.Max load : 0.5Kg
Description
GHB Selfie Stick Gopro for Telescopic Extension Pole Gopro Stick with Pole Monopod for GoPro Hero 4/3 + / 3/2 SJ4000 SJ5000 DV Camera Sony Action Cam / Canon / Nikon etc.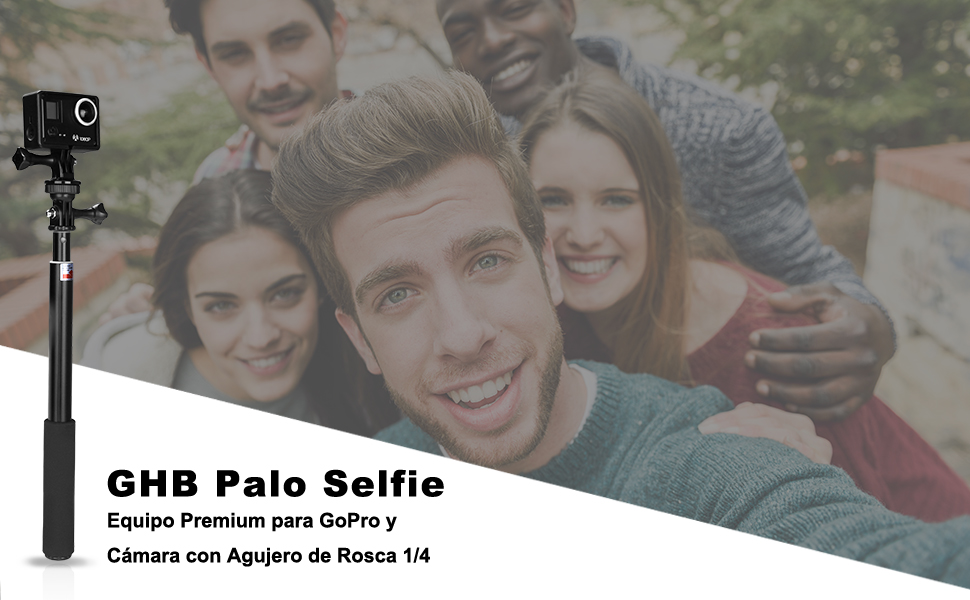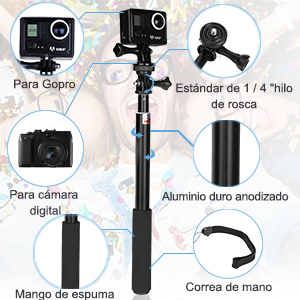 Our Selfie Stick is designed with functionality and performance in mind.
The highly adjustable mount ensures that you will have universal compatibility for your camera.
This fully adjustable selfie stick allows for a wide range of fun photography options.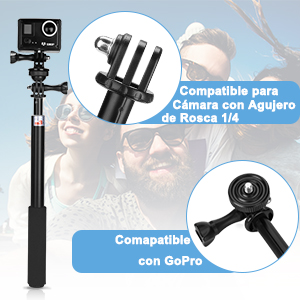 Extends to a full 92cm
Safer and more reliable locking of the Selfie Stick when extended
Fully adjustable mount for a variety of devices and angles
Small and portable, great for travel
Easy and fun to use, anyone, any age you can use it!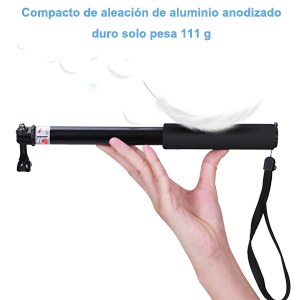 Superior Materials and Design
Your camera and accessories were designed and manufactured to the highest standards, so your pole should be too. Our pole is made from high quality materials to create a premium product.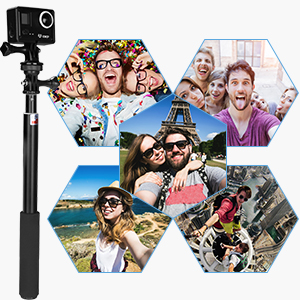 The Compact Edition offers a total extension of 92cm combined with the portability you need to 28cm when retracted. Ideal for travelers looking for comfort and versatility.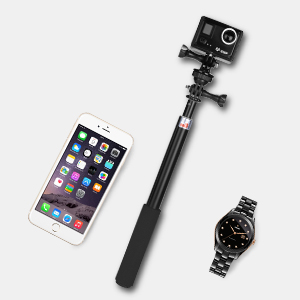 Compatibility
✔ GoPro Hero 6 Black
✔ GoPro Hero 5 Black
✔ GoPro Hero 5 Session
✔ GoPro Hero Session
✔ GoPro Hero 4 Black
✔ GoPro Hero 4 Silver
✔ GoPro Hero 3+
✔ GoPro Hero 3
✔ GoPro HERO + / HERO + LCD
✔ GoPro Hero 2 / HD