$24.99
It features the advanced Hi-Fi technology for audio amplification, you can boost the bass sound with a simple button. Thanks to a professional chip, the amplifier has clean sound.
The amplifier case is totally made of aluminum, the design is drawn in aluminum, beautiful and elegant. The case also manages to avoid electromagnetic interference.
The amplifier chip is provided by Philips, it can produce powerful 20W x 2 RMS audio amplification.
It connects with DVDs, PCs, MP3s and many other music players, and also enjoys powerful audio amplification through the amplifier.
The kit includes a battery charger for use at home, while to connect it to the car power supply you can use the supplied cable.
Description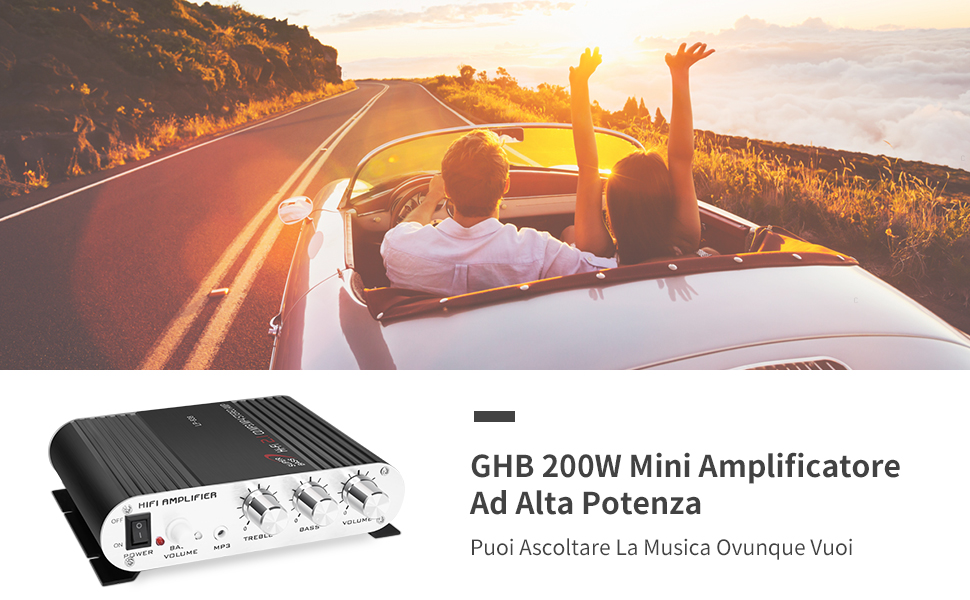 Why Choose GHB Mini Audio Amplifier?
Aluminum casing, beautiful and fashionable
Supports a wide variety of devices
Supports bass tone adjustment
Equipped with a button with enhanced bass effect
High power
Two clips for output audio
It is small, easy to carry and can be used when traveling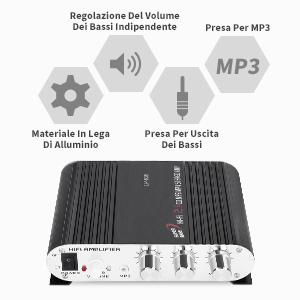 Aluminum alloy material:
machined from aluminum, fashionable and good looking
Independent bass volume adjustment:
2.1CH heavy bass effect, independent output
Subwoofer interface:
used to connect the subwoofer
MP3 Jack :
Coaxial audio jack with 3.5mm can connect all kinds of digital audio input via 3.5m coaxial audio plug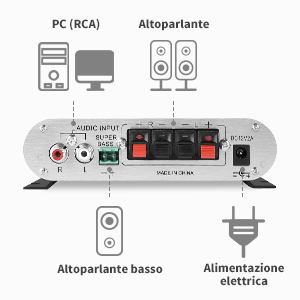 Note : You can connect the device to a socket as in the Product Specifications reference image
DC Output: 12V-18V 2A
Jack input: 1/8 "(standard stereo jack)
Voltage: 12V
Material: aluminum alloy
Dimensions: 14 x 10.5 x 4cm (5.5 x 4 x 1.5 ")
Input Impedance: 47K
Speaker impedance: 2-8Ω
Total harmonic distortion: <0.4%
SNR:> 80dB
Frequency response: 20Hz-20KHz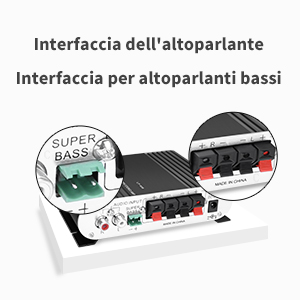 Speaker interface :
Used to connect normal speakers
Subwoofer interface :
Used to connect subwoofer
Little distortion, delicate sound :
Professional chip provided by Philips has the advantages of having little distortion, sound quality and large dynamic output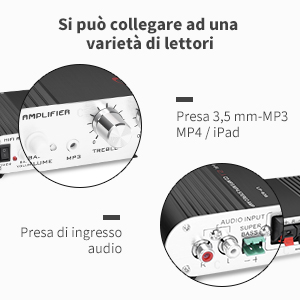 MP3 Jack :
The 3.5mm coaxial audio jack can connect all kinds of digital audio input via a 3.5mm coaxial audio plug
Note:
For any further clarification, you can contact us at any time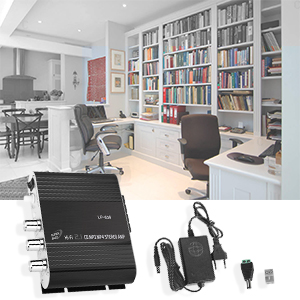 Applicable equipments:
mobile phone, computer, car speaker, MP3, iPad, DVD
Package List:
1X Amplifier
1X Battery charger
1X Cable to connect to the car power supply
1X User Manual