$15.99
HEALTH: The ergonomic vertical mouse is designed for natural hand positioning and maximum comfort. Right-handed users can thus perceive the reduction in wrist and hand tension, thus improving their health
ADJUSTABLE SENSITIVITY: Adjustable DPI to change the sensitivity of the mouse pointer (800/1200/1600), you can change it freely according to your needs
RAPID KEYS: You can surf the net faster by adding the next / previous button on the side of the mouse to provide more convenience for people who work long hours on the computer. Range: 10 meters
COMPATIBILITY: This comfortable ergonomic mouse is compatible with Mac OS X, Linux and all versions of Windows. This mouse features a plug & play nano receiver that plugs into your laptop or computer USB port for connectivity
SLEEP FUNCTION: Vertical mouse with automatic sleep function, can save power and extend battery life. After 8-10 minutes of non-use, the wireless vertical mouse automatically goes into standby.The built-in 2.4GHz radio frequency wireless technology allows the mouse to work smoothly with your computer or laptop (Note: The USB receiver is located in the bottom of mouse)
Description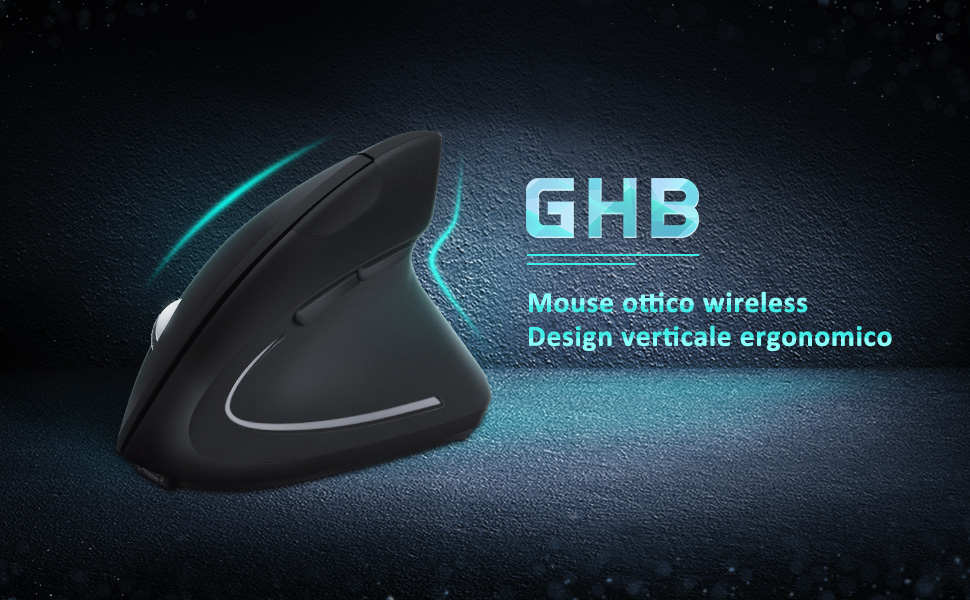 Why choose a mouse with an ergonomic vertical design?
Employees can't help but use the mouse most days. It is very harmful to use the mouse for a long time. The data show that for every 100 people there are between 5 and 10 people with carpal tunnel syndrome. Most of the patients are those who use computers often
Vertical and ergonomic design:
a design that allows the arm to flex naturally, healthy, comfortably and comfortably
Why choose the GHB ergonomic vertical mouse?
Vertical and ergonomic design
Comfortable and of good quality
Plug & Play
2.4G wireless transmission technology
Durable battery
Automatic suspension mode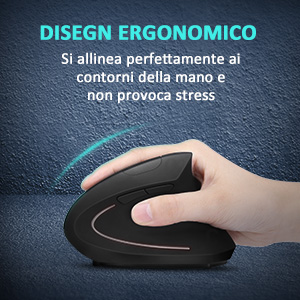 Ergonomic and vertical design
The vertical mouse design allows the hand to bring the force transferred from the wrist to the side of the hand to reduce damage to the arm bones
Traditional mouse design is harmful:
Prolonged use can cause wrist damage
GHB Vertical Ergonomic Mouse :
Relieves wrist pain
Convenient and practical
Product Specifications :
Black colour
Size: 11.5cm x 6.2cm x 8.3cm
Weight: 98g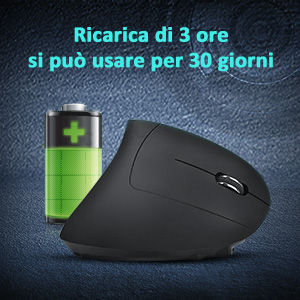 The battery is very durable:
After 3-hour charging can be used for 30 days, environmentally friendly rechargeable lithium battery
Auto sleep function:
Saving energy and extending the life of the product
If you don't use the mouse for a few seconds it automatically switches to sleep mode, if you don't use it for ten minutes it switches to deep sleep mode
The package contains:
1 x wireless mouse
1 x Receiver (Located at the bottom of the mouse)
1 x USB Cable (For charging only)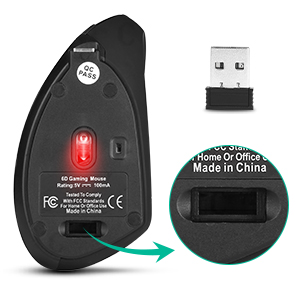 Note:
Pull out the USB receiver on the bottom of the mouse, plug it into your computer and connect wirelessly
The USB cable should only be used for charging, it should not be connected to the mouse for use
Some problems that may occur:
Q: Is the mouse wireless? I can't see the receiver, there is only a USB cable
A: Hi, the mouse is wireless, the receiver is located at the bottom of the mouse. Please check carefully (can refer to the bottom part of the image on the product page). The USB cable should only be used for charging, not for using the mouse.
This is a wireless mouse, the wire you find in the package is only for recharging the battery, it is not a wired mouse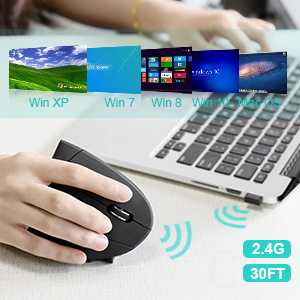 2.4G wireless transmission technology
Operating distance of 10 meters: lossless transmission
Compatible with Mac OS X, Linux and all versions of Windows
Note:
As this is a vertical mouse different from conventional mice, it will take some getting used to initially
When the indicator is green it means that the mouse is charged
For any questions you can consult us at any time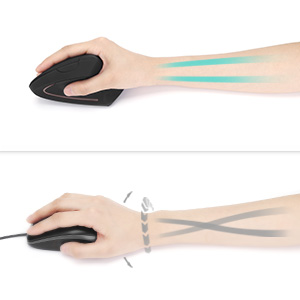 Plug and play:
No further installations are required
Multiple Block DPI Adjustment:
High sensitivity to adjust the mouse pointer speed (800/1200/1600)
Forward and back keys:
Convenient for browsing and consulting files